03 Dec 2021
4

min read
13668

Views
Our colleagues' untold stories: revealed
In today's edition of Our story l our heritage, we're uncovering some more of our untold stories and hearing from some of our long-standing colleagues - who have more than a few untold stories to share!
Did you know that Frederic Isaac Reckitt was the company's first chemist?
Frederic was the son of our founder – Isaac Reckitt – and joined the company in 1841. He had an 'inventive mind and applied his knowledge of chemistry and engineering to the good of the firm.' Frederic developed new forms of starches, 'washing blue' and blue and black lead. He was Reckitt's only chemist for almost 50 years – so he was certainly busy!
Outside of the Hull, UK factory, Frederic was a keen philanthropist. In fact, one of the last things he did before he died was commission the building of 12 alms-houses in the city for retired Reckitt colleagues. These houses can still be visited today!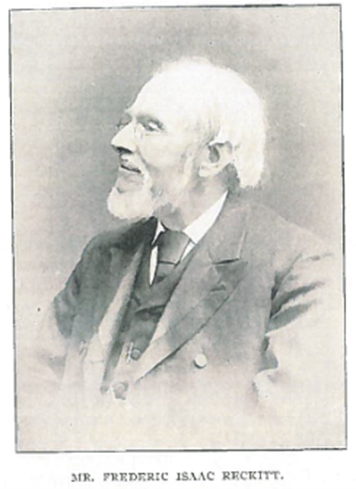 Did you know we first moved into the health category back in 1933?
Dettol was our first introduction to the health category (you can find out all about Dettol's history here) back in the early 1930s. The brand was such a huge success that, for the next 40 years, our focus was mainly in health and personal care.
Dettolin mouthwash was launched in 1935

Steradent joined the Reckitt family in 1937

Then came Disprin (1948), Codis (1952) and Nulon hand cream (1953)
From here, acquisitions came thick and fast, with a host of new brands joining the fold including Veet, which was originally launched in 1922 and joined Reckitt in 1969 – as well as Gaviscon (1970) and Bonjela in 1973.
Did you know that Gaviscon was discovered by accident?
Back in the 1960s, a Swedish radiologist researching X-ray contrast media came across a formulation that formed a 'viscous raft' over gastric contents of the stomach. With more research and a little bit of innovative thinking, he realised that this could be used to tackle age-old problems: heartburn and indigestion. A happy accident, indeed.
And so, in 1965 Gaviscon was first launched (by Ferring) in Sweden.
Colleagues' untold stories
Hear from: David Gerard Vella, R&D NA Project Manager
David joined the US team in April 1998. Over 20 years later, it's fair to say that a lot has changed.
quote icon

I first walked through the door of our Evansville site almost 25 years ago. When I first arrived, our site leader would organise 'take your child to work' days. These were great fun and my children – who are 34 and 31-years-old now – still remember the spaghetti lunches. They both say that they enjoyed seeing 'Dad's worksite' and I'm sure the freebies they were given also made the day more fun!

David Gerard Vella

R&D NA Project Manager
"During my tenure, I've had the privilege of working alongside some exceptional innovators. Some of the lessons they taught me include:
the importance of quality - we make products babies consume so we cannot rush our processes. A baby cannot send you an email about their dissatisfaction with our product. They can only get sick if we're not right
following your dreams - apply for a role because it is meaningful and rewarding to you and your career aspirations
"Who knows what the next 25 years will bring. I'm excited to find out as we continue to live our compass and fulfil our commitment to doing the right thing. Always."
Hear from: Angélica Mata, Medical Sales Personal Assistant, Mexico
quote icon

This is the only job I've ever had, and I still remember my first day like it was yesterday. But it was actually 2nd June 1986. A lot has changed over the last 35 years ago. When I first started, I was responsible for preparing the cycle guides for sales representatives and I did this on a mechanical typewriter with a 'Stencil', which was a very delicate paper. It was a daunting task as there was no way to correct any mistakes!

Angélica Mata

Medical Sales Personal Assistant, Mexico
"Another change would be that we used to use 'paging radio' to communicate with representatives – and before that we'd use the telephone or even telegrams.
"My colleagues are the reason I've stayed with Reckitt for so long. The people I've met during my time here made me fall in love with the company. Our innovators inspire me and I'm incredibly proud to work here."