23 Jun 2021
3

min read
7280

Views
quote icon

"Our DNA is steeped in a rich, 200-year history of working collaboratively across the globe. The innovative, entrepreneurial spirit of our people is at its best when diverse teams unite, share ideas and create pioneering solutions. We have made a five-year commitment to hosting Stronger Together conversations. These provide a regular moment for us to talk about important issues relating to diversity and to inclusion. My hope as always, is that in doing so together, we become stronger"

Laxman Narasimhan

Chief Executive
Ranjay Radhakrishnan, Chief Human Resources Officer said:
"Across the globe, we want all our people to have the Freedom To Succeed. For us, that starts with an inclusive environment where everyone feels able to participate fully and realise their full potential. We have to be more inclusive both in our ways of working and in our ways of thinking. Inclusion is a business imperative."
There is more to do. The world is changing at a faster pace than ever and as it does, so do the needs of our people and the consumers we serve.
Stronger Together
In 2020, we committed to running regular Stronger Together sessions for the next five years as we seek to transform our culture. Through virtual global events, discussion groups, new Employee Resource Groups (ERGs) and a new Global Inclusion Board, we've demonstrated what the future looks like at Reckitt: diverse and inclusive.
We intended each session to be all about listening and learning. And we're proud that is what happened.
Stronger Together in Numbers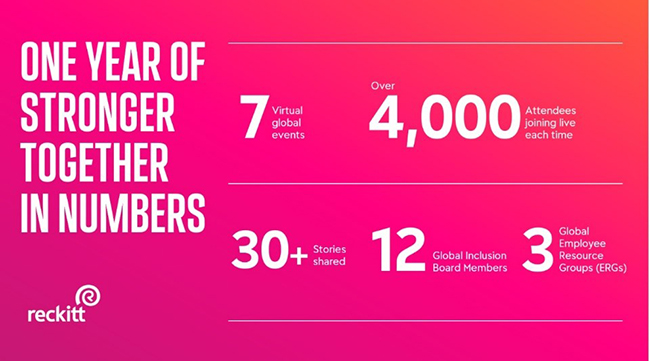 Mary Harris, Non-Executive Director and designated NED for engagement at Reckitt said:
"This year, we announced our aim of 50/50 gender balance by 2030 and reported on the gender pay gap in 10 markets, even though this is only a requirement in the UK. We wanted to go further to show transparency across the global markets in which we operate. This year, Reckitt was also ranked No.3 in Consumer in the FTSE100 for board diversity in the UK Consumer Diversity Index 2021."
"I'm looking forward to the future of Stronger Together and seeing where our conversations take us."
Over the course of Stronger Together, we've held seven virtual global events, heard from over 100 colleagues and colleagues from all across the globe have joined our new Race and Ethnicity ERG, LGBTQ+ ERG, Women@Reckitt ERG and Inclusion Boards.
Internally, we've established real, measurable and tangible goals for our Global Inclusion Board and progress is already being made across the company. Both internally and externally, we've recognised where we need to be and have put meaningful steps in place to ensure we get there. It's been a fantastically successful year for Stronger Together. But this is just the start.
Find out more in our inclusion insights here.
Read our most recent pay gap report here.