Sourcing raw materials responsibly
Global demand for natural raw materials continues to put pressure on the natural environment, contributing to the decline of wildlife and biodiversity. We have a responsibility to ensure that raw materials are being sourced sustainably. Like many big companies, we have a complex network of suppliers, from global operations to rural family farms. We're working towards ecosystems protection and regeneration programmes with nature-based solutions in key value chains by 2030, through our brands and supply network.
We prioritise certain raw materials to minimise impact and ensure sustainable production: palm oil, dairy, fragrances, surfactants and latex. Traceability is vital – knowing the origin of the raw materials we use and ensuring they have been produced with no deforestation, as we work to safeguard local people and the environment.
2021 Performance
96%
Palm oil traceable to mill, excluding surfactants (found in detergent)
99%
Paper and board in packaging from certified or recycled sources
Excluding third-party manufacturing sites
Fair
Durex is partnering with Fair Rubber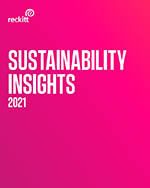 Protecting ecosystems across our value chain
Read our Insight to see how we are sourcing responsibly
Download (PDF)
Further detail
Ensuring the sustainability of our palm oil supply chains
We work with suppliers and partners to understand the actions required to ensure compliance with our supply chain standards. We also publish a list of the refineries and mills that our suppliers sourced from in the previous year
Click here for our mill list (PDF)
Policies - find out more
You are viewing of results
Case studies
We're working with Oxford University social venture Nature Based Insetting (NBI) to apply the latest scientific research to set evidence-based targets for mitigating the impact of our supply chain on climate change, biodiversity and society.
The programme started with a report on qualitative impacts ahead of the United Nations Climate Change Conference COP26 in November 2021. We're developing a plan to protect, restore and manage ecosystems in supply chains including palm oil, latex and fragrances.
From the framework developed with NBI, we're able to measure the biodiversity impacts on the local ecosystems in key value chains. That means, as we develop new ways of working with suppliers and farmers, we can measure the positive impact we create. This might be through different farming methods, alternative crop management and fertilisers, or perhaps different crops as well. We'll evaluate potential interventions in 2022 and take them forward with suppliers, alongside or as part of collective landscape approaches.
WWF and Reckitt launched a partnership in March 2021 to tackle causes where we can make the most impact. Together, we will help restore and protect 2,100km of freshwater within two of the world's most important ecosystems in the Amazon and the Ganges. The programmes aim to improve the quality of freshwater resources to allow people and nature to thrive.
We're also inspiring millions to fight for nature through our brand partnerships with Air Wick and Finish. Together we will restore over 1.2 billion square feet of wildflower habitats globally and replenish 500 million litres of freshwater in the UK. Through our partnership we are also raising awareness with people on the biodiversity and water crises. In addition, WWF is supporting Reckitt's sustainable business transformation through joint research and collaboration focusing on water, climate change and biodiversity.
We have launched a new partnership between Fair Rubber and Durex. This is a first for the world's leading condom brand, and a first for Reckitt's global brands.
The partnership will make a real difference to the farmers and smallholders who grow rubber trees that provide our latex. 
Through the partnership, we will pay a fair trade premium for the rubber we buy. Since the Fair Rubber Association was established nine years ago, recipients of the Fair Trade premium have used it to invest in: their children's education, housing, and surrounding communities. Reckitt will also work with farmers to improve farming practices to increase yield.
In Thailand we will continue to work with Earthworm Foundation to improve the livelihoods of smallholder latex farmers, helping the supply network to be more resilient for the future. We are prioritising:
Increasing farmer and household income from latex and other sources, such as livestock-raising;
Adopting regenerative agriculture practices such as agro-forestry, which can improve productivity and enhance ecosystems;
Improving living and working conditions, for example through the better use of personal protective equipment;
Enabling farmers to invest in their farm community for their long-term livelihoods.
We have taken steps to further understand and improve sustainability of dairy, the main ingredient our infant formula products. We are a member of the Sustainable Dairy Partnership (SDP), a group of suppliers and industry peers who work to increase sustainability in the dairy industry.
Members take responsibility for key challenges including greenhouse gas production, human rights, deforestation and animal welfare. We are pleased to report that our largest suppliers are active members of the SDP. In 2019 we collectively created a digital solution to help improve traceability and transparency by sharing information more efficiently, and developed training and communications materials for the various SDP members and non-members.
In 2021, we published our new commitments to improve the sustainability of our palm oil supply chain. As we mostly procure processed derivatives of palm oil, traceability and monitoring remains a challenge given the scale of palm oil production landscapes and the amount of processing.
We can only deliver tangible improvement through partnership with our suppliers, peers and the wider industry. Our Chief Procurement Officer hosted a town hall with all our palm oil suppliers to set out our new commitments and our aim to develop plans for each supplier in 2022 to increase NDPE monitoring. We hope this more tailored approach, supported by our wider industry action through the Consumer Goods Forum, will drive progress.