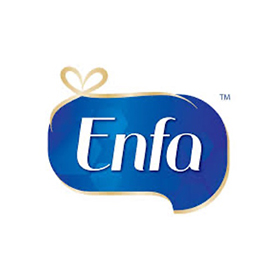 Let's fuel the wonder
At Enfa, we believe every child is the most important person in the world. That's why our family of over five thousand strong is uncompromising in our commitment to fuelling the wonder of every new child and parent we serve. From that first ah-ha moment and providing useful advice as you start your journey, to your child's first homecoming and settling in, to helping turn baby steps into great leaps forward, we're here to support you for those many moments of wonder both big and small. Our key brands include Enfamil, Enfagrow and Enfinitas.

Reckitt supports the World Health Organisation (WHO) recommendation for exclusive breastfeeding in the first six months of life and encourage continued breastfeeding up to two years and beyond. We support the introduction of safe, age appropriate nutritious complementary foods from six months of age
1911
The first formula was created by founder Edward Mead Johnson Sr
No. 1
Family of milk formulas
2016
Introduced breakthrough Milk Fat Globule Membrane
The following featured content is from our Enfamil United States digital channels. Please be advised the content complies with US law and may differ from website content from your home country.
Stories
What's happening at Enfa
This is the most important person in the world
Meet Zanna Lu's parents and see what we do for every #MostImportantPerson
#RaiseTheDHA for all babies
We're calling on all brands to ensure their formula contains the expert recommended amount of DHA. Sign our petition!
Baby development and nutrition
Explore articles and videos on development, milestones and nutrition for your newborn, infant or toddler.
Find out more
Videos
The latest advertising from Enfa
Watch our latest tips, tricks and products to help you nourish the most important person in the world