Moving towards water positive
As our changing climate becomes more volatile, global demand for safe water will continue to grow. We are committed to reducing water impacts and helping communities have access to clean water and sanitation. We're continuing to improve our water-efficiency in manufacturing, aiming for a 30% reduction in water in operations by 2025.
In water stressed locations, where we have 20 sites at the moment, we are introducing water catchment area programmes as part of our ambition to be water positive by 2030 there. And we are targeting a 50% reduction in our product water footprint by 2040. We're also reducing the amount of water needed to use with our products. Our Finish brand is tackling water consumption by asking people to stop pre-rinsing their dishes. Savings like this add up to make a big difference to our global impact.
2020 highlights
13%
Reduction in water use per dose of Reckitt product vs 2012
39%
Reduction in water use per unit manufactured vs 2012
Manufacturing and warehousing only. Excludes IFCN.
+
Water positive in water stressed sites by 2030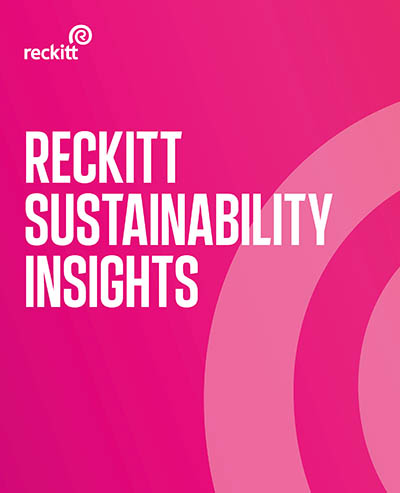 Water resources
Read our Insight into how we are reducing our water impact
Download (PDF)
Case studies
In response to the Australia's devastating droughts, our Finish team in Australia initiated the #FinishWaterWaste campaign. Kicking-off in September 2019 in partnership with Rural Aid, it encouraged consumers to pledge to stop pre-rinsing their dishwasher loads, saving 40L of water per dishwasher load.
This is matched by Finish donating 40L of water to rural communities in need. The campaign has got people talking about saving water and raised their awareness of this critical issue. In the wake of the extensive bushfires and drought, the #FinishWaterWaste campaign will continue in 2020 in even bolder ways.
An innovative water treatment solution at our Shangma plant in China has resulted in 50,000 cubic metres of water being recycled, equivalent to 100 million bottles of water. The 'dipping wastewater', which usually cannot be recycled, is ran through a membrane using reverse osmosis.
This gives the water a new lease of life, allowing us to use it in our cooling towers, with enough recycled to meet our annual requirements of 31,000 cubic metres. This is another step forward in our aim to pursue zero effluent discharge.
In Turkey, our Finish brand worked with National Geographic to produce a documentary titled '25 Litres'. The film posed the challenge of living with only 25 litres a day and aimed to raise consumer awareness about water scarcity. We also partnered on a range of other water projects, from revitalising Lake Kuyucuk in Turkey, to working with supermarkets to emphasise the importance of managing water resources.
We want to become water-positive by 2030 in areas that are water-stressed. For our manufacturing sites, this currently includes 20 locations. At our Hosur factory in India, we've taken a step towards that target with a rainwater harvesting pond.
With new slopes and drains, it gathers rainwater that falls on roofs, gardens and pavements, and filters it with perforated pipes, gravel and sand. The water would otherwise run off into drains, but we can give it back to the environment on site instead.
The 4,250m3 pond will help us give around 12,750m3 of water back to the environment each year.