Replace, reduce, reuse, recycle and ensure recyclability
People and companies are uniting to address the challenge of plastic and packaging waste. From microplastics to mountains of unwanted waste, this is an important issue for the planet, and something we are committed to tackling.
We're continuing our commitment to the five Rs – reducing, reusing, replacing, recycling and ensuring recyclability – in our manufacturing and products, working with partners to tackle this systemically. We've set ourselves clear targets to achieve by 2025 and 2030 and will update our reporting on latest progress mid-year.
Our Ambitions
100%
Target of 100% of packaging to be recyclable or reusable by 2025.
25%
Target of 25% recycled content in plastic packaging by 2025.
50%
Reduction of virgin plastic in packaging by 2030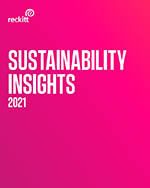 Plastics and packaging
Read our Insight into how we are reducing plastic and packaging waste through our five Rs.
Download (PDF)
Case studies
Veja Power Nature all-purpose cleaner, launched in Brazil, now has a concentrated capsule refill system. It means the original trigger and bottle can be reused up to 25 times and the use of refill saves 85% of plastic.
The PET bottle is recyclable and also includes 50% PCR. A QR code guides consumers to a virtual reality page showing them how to use the refills and, just as importantly, how to dispose of the materials
In Germany, we launched a recyclable flexible pouch for Finish – the first of its kind in the dishwash category.
This addressed the issue of laminated films not being readily recycled and was recognised as a game changer, winning the UK Packaging Award for Best Flexible Packaging of The Year as well as DOW's 'Packaging Innovation Awards – GOLD'. We are now looking at how we can use this innovation in other categories and regions.
We will never solve the global plastics challenge alone. To make a difference we need to work closely with others – governments, not-for-profits and industry associations, as well as our retailers, suppliers, consumers and peers. We're proud to be part of the Consumer Goods Forum Coalition of Action on Plastic Waste as well as the Ellen MacArthur Foundation's Global Commitment.
Another example is how Finish UK has partnered with recycling company TerraCycle's Loop programme, a sustainable packaging concept that sees empty packaging collected, cleaned and re-distributed back to the brand, which then reuses it.
Find out more
The presence of microplastics in the environment is an increasing concern, due to their potential to harm organisms and enter the food chain. Recognising this, we have taken steps to stop using microplastic beads since 2016.
A number of microplastics have been added to our restricted substances list and we are collaborating with industry partners to minimise the release of microplastic particles into the environment. We are supporting research initiatives on detection, risk assessment and degradation of microplastic particles in the environment.
Find out more