Supporting the economy and communities in India
Oxford Economics provides an independent analysis of the significant economic impact of Reckitt in India. Through Oxford Economics' sophisticated modelling, the research showed the significant impact that Reckitt has brought to the Indian economy, supporting employment opportunities, improving public health, and advancing social development across the country. Our contribution is evaluated using three key metrics: Gross Domestic Product (GDP), employment and government receipts.
2021 highlights
INR78.8 billion
(£775 million) contribution to India's GDP in 2021
2.5x GDP multiplier
almost double that of the average chemical and pharmaceutical manufacturing company in India
6x
Reckitt employees typically contribute around 6 times the national average India's economy
Over 95%
of our local procurement is with suppliers in India
Over 69,000
jobs across Indian economy supported
21x
employment multiplier in India, almost 6 times the national average
116 million
people reached by The Dettol Banega Swasth India Campaign, improved health and hygiene behaviours of the Indian population
20 million
children educated via The Dettol School Hygiene Education Programme, teaches children hygiene behaviours like hand washing
6,500
children saved from malnutrition by The Reach Each Child Programme
15,800
sanitation workers trained by The Harpic World Toilet College Programme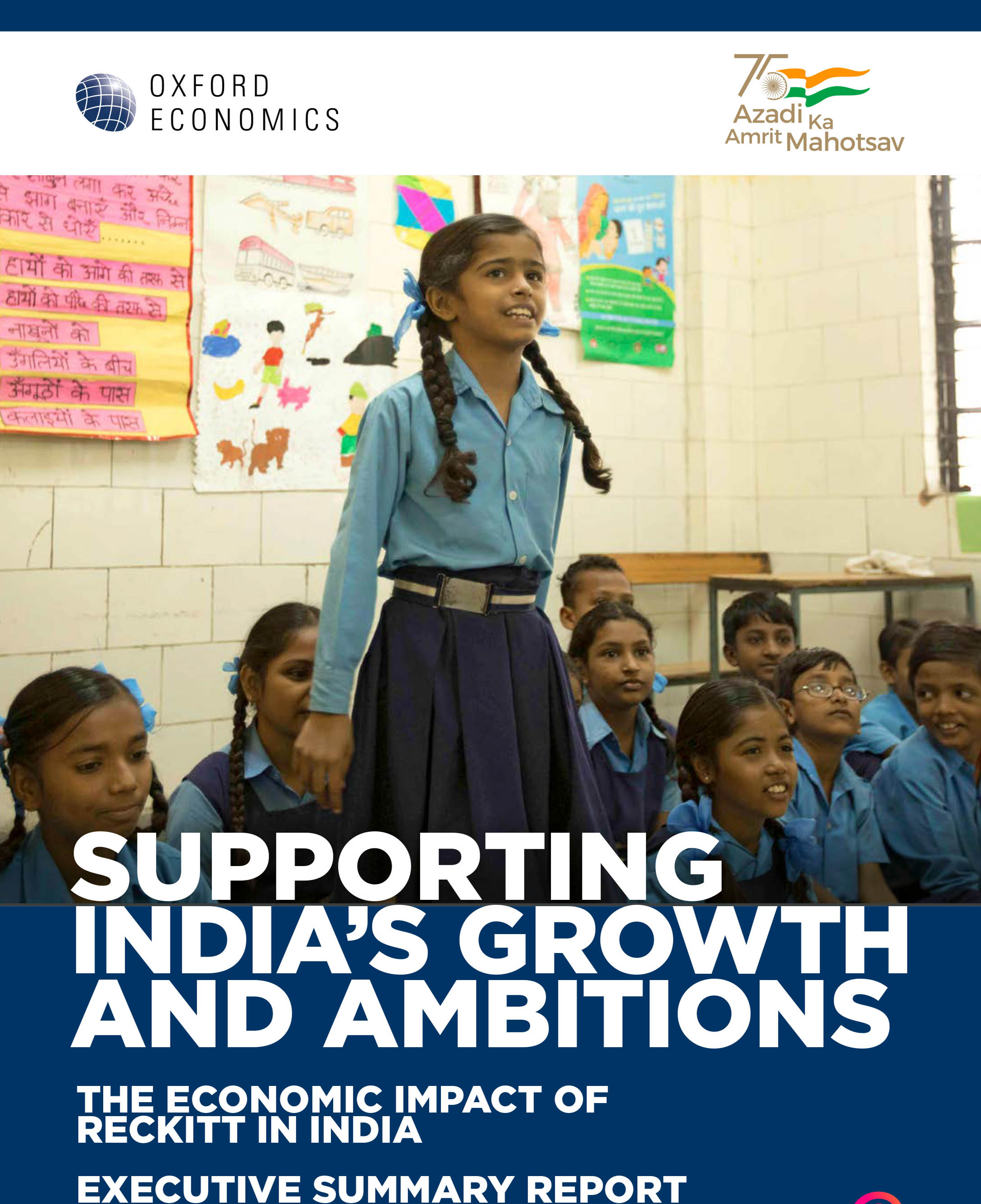 Economic Impact of Reckitt in India
Download
Case studies
Reckitt is committed to developing new products that provide better health, hygiene, and nutrition solutions for consumers and has invested in nine global "Centres of Excellence" that specialise in product Research and Development (R&D) initiatives.
India is home to one of these centres—the Entomology Centre of Excellence—located in Gurgaon.(1) This centre focuses on the prevention of insect/vector-borne disease transmission.
The centre is connected with two satellite labs in Brazil and Australia which provides a global coverage with brands such as SBP and Aerogard, and collaborates with experts of formulation, analytical chemistry, packaging engineering, fragrance, and more.(2) 
Vector-borne diseases come from living organisms such as mosquitos that transmit diseases through insect bites such as malaria, dengue, and chikungunya. These diseases continue to devastate communities worldwide, including India, where there were 4 million cases of malaria in 2020.(3) Reckitt's state of the art Entomology laboratory is contributing to the Government of India's goal to eliminate malaria in India by 2030 by creating efficacious, safe, trusted, and affordable products that fight vector-borne diseases, such as Mortein.(4) The R&D facility in Gurgaon employs over 170 scientists that work on pest related and other products and collaborates with seven world-leading universities and institutes, including six in India, and has led to 18 product innovations, 13 granted patents, and 12 published scientific articles.(5) This work is important as climate change is increasing the threat of malaria by 150 million cases per 2-3°C (36-37°F) temperature rise.(6)
R&D can also have other positive impacts that contribute to long-term economic growth and public health outcomes. This includes creating new scientific methodologies, training skilled graduates, and solving complex scientific problems. Many of these benefits spill over to the rest of the economy through improving productive capabilities of other businesses and people. As this Entomology laboratory is in Gurgaon, and collaborates with the University of Delhi, it is likely to provide valuable employment and human capital opportunities for people in the local area. Dr Manas Sarkar, who works at the centre, said:
"Our collaboration with University of Delhi is instrumental in advancing research and developing cutting edge technology to serve consumers' unmet needs. This is a win-win partnership for all as we can tap into the esteemed knowledge of University of Delhi and benefit from its wide network to create impactful sustainable solutions for our consumers. Moreover, we are creating skilled work-ready scientific talent, through long-term internships, practical training, and mentoring."
(1) Reckitt also has two further R&D facilities, located in Baddi and Mysore, and 11 production sites that support handwashing and hygiene R&D operations across India for brands such as Dettol, Harpic, Veet, and Mortein.
(2) SBP is Reckitt's Pest Brand in Brazil.
(3) World Health Organisation, 'World malaria report 2021', 2021
(4) Government of India et al, 'National Framework for Malaria Elimination in India', 2016
(5) The universities and institutes in India include the University of Delhi, Mohanlal Sukhadia University, RV College of Engineering, Institute of Chemical Technology, Indian Institute of Chemical Technology, and CSIR-Institute of Genomics and Integrative Biology.
(6) Patty O'Hayer, and Catherine Machalaba, 'Climate change and health', 2022
One of the most significant examples of Reckitt's efforts to invest in social development in India is the Dettol Banega Swasth India campaign. This campaign aims to support a healthier, cleaner India through purpose-led investments in "Culturally Adaptive Behaviour Change Communication", and investing in aspirational districts across India on hygiene, sanitation, and health practices to improve India's Human Development index. This is one of the longest-running and largest social impact initiatives in India, and has been in operation since 2 October 2014, a day of special significance as it is also the birthday of Mahatma Gandhi (the Father of the Nation). Mahatma Gandhi believed that cleanliness and sanitation were integral to the Gandhian way of living.
This campaign was initiated to complement the Government of India's Swachh Bharat Mission—to make India open defecation-free. The campaign has received recognition from Honourable Prime Minister Narendra Modi and his government, as well as from academics and the wider population.
As said by Her Excellency Anandiben Patel, Governor of Uttar Pradesh: "Through effective collaborations we can make large strides in our efforts towards creating a sustainable India. Together, we have to work towards educating the children to ensure that they will lead better and healthier lives. The people's movement started by Honourable Prime Minister Shri Narendra Modi has given a golden opportunity to all in India to see a dream of nation which is Swachh and Swasth."
There has been considerable progress in India's sanitation mission, with the country achieving Open Defecation-Free status in 2019. But continued focus is required to sustain behavioural changes as toilet usage and maintenance are still key challenges. It is no coincidence that states with relaxed open defecation behaviours such as Uttar Pradesh still have some of the highest child mortality rates from diarrhoea among children under five years of age. The issue of open defecation is therefore not limited to a lack of resources but is also related to triggering positive behaviours around hygiene. The Dettol Banega Swasth India campaign's significance is demonstrated by its reach. Reckitt estimates that it has reached 116 million people as of the end of 2021, through several initiatives including:
Partnering with NDTV to produce educational media around health, hygiene, and nutrition;
Having a strong social media presence on Facebook, Instagram, Twitter, and YouTube, leading to 61.6 million, 23.2 million, 1.8 million, and 114.7 million impressions respectively;
Producing documents like the "Baby Book", which led to 76% of mothers improving hand washing;
Initiating a health, hygiene, and sanitation educational app for women frontline workers. Feedback suggested that 85% found the app very effective;
Creating wall paintings with hygiene messages for people to see during their daily routines;
Organising street plays to inform villages about better sanitation practices (82% of the beneficiaries believed the plays would rapidly trigger behavioural changes);
Empowering children parliaments to provide soap to families who earn less than $1 (INR74 in 2021 exchange rates) per day, which will transfer knowledge down to future generations; and
Introducing other programmes such as the Dettol School Hygiene programme.
Changing health and hygiene behaviours can be a long and arduous process, but it is essential as social norms can often be barriers to implementing successful public policies and change. However, this also means that once behaviours change, they can remain for a long time, which highlights the effectiveness of this campaign.
The Dettol School Hygiene Education Programme was launched in 2014, with the aim of improving the hygiene curriculum in schools across India. The programme reinforces pro-hygiene behaviours among children. The programme also distributed home hygiene lab kits and released new interactive digital games during Covid-19 to encourage children to solve hygiene related challenges at home. The programme also set up a hygiene studio to deliver hygiene messages to schools in remote areas.
The programme has expanded from an initial 2,500 schools in India to 650,000 schools by 2019 and has not stopped there.
Dr Imam Umar Ahmed Ilyasi, Chief Imam of All India Imam Organisation, said: "We have managed to reach out to about 60 million children in over 500,000 madrasas. Dettol's Hygiene curriculum has ensured better hygiene habits, helped prevent the spread of disease, and has led to improved health in growing children." As well as the immediate health impact of good hygiene, habits are commonly carried on into later life, and can even spill over to families and communities.
Poor hygiene causes adverse economic and social consequences in India. A recent study found that around 7% of all hospital admissions in the country were due to water, sanitation, and hygiene related diseases.(1) The cost from not handwashing is estimated at INR1.7 trillion.(2) Hygiene in schools is also particularly poor. An estimated 56% of pre-schools in the country have no running water available.(3) This increases the risk to children of severe illnesses, which can lead to higher school absenteeism and lower educational outcomes.
A key part of the programme is teaching healthy habits through hygiene education that focuses on five key "moments"—personal hygiene, hygiene at home, school, neighbourhoods, and hygiene during illness. The programme also encourages schools to improve their hygiene infrastructure and teaches girls menstrual hygiene as this disproportionately affects the attendance and schooling outcomes of girls.
The programme has collaborated with development partners to establish 3,000 soap banks, and to establish Child Parliaments to oversee the soap banks and ensure school hygiene facilities are adequate and maintained. Since the programme's introduction, there has been a 14.6% reduction in diarrhoea among children in target schools, and a 39% reduction in school absenteeism. Moreover, knowledge of handwashing has improved by 57%, with handwashing increasing 54%. Reckitt also reports a social return on investment of INR33 for every INR1 spent on the programme.
(1) Goyanka, R., 'Burden of water, sanitation and hygiene related diseases in India: prevalence, health care cost and effect of community level factors', 2021.
(2) Unicef, 'Clean drinking water', 2021.
(3) Unicef, 'Clean India – Clean schools', 2022
India currently contributes to one-third of the global burden of undernutrition, with 46.6 million stunted children and the highest number of children with wasting (a form of malnutrition) across South Asia. The Covid-19 pandemic has added to this crisis; according to UNICEF, India is likely to witness a 10% increase in malnutrition post-pandemic.(1) Health problems such as undernutrition have negative impacts on society. Those with health problems can be unsuccessful in school and be restricted from working, which reduces their earnings potential and lowers productivity. Productivity losses from stunted children are estimated at 8% of GDP.(2) Particular attention is paid to mothers to improve this, as their health is passed down to their children.
The Reach Each Child Programme is aligned to the Government of India's National Nutrition Mission, aimed at ending malnutrition.
It has been endorsed by NITI Aayog (the Government of India's apex public policy think tank) as well as Public Health Specialist Dr Indira Chakravarty, Padma Shri Awardee, who said: "The programme focuses on two essential and crucial factors: cleanliness and hygiene which has been able to have a significant impact on one of most difficult public health concerns of the country—childhood nutrition."
Reckitt provides support and care for mothers and children by supporting nutrition nourishment during the first 1,000 days of a child's life. The programme adopts a lifecycle approach to nutrition, gender sensitivity and inclusivity, community ownership, and early prevention, to bring a better life for the mother and her child. The programme aims to reduce the number of stunted children under-five by 40% and reduce and maintain child wasting to less than 5%, taking the following targeted interventions:
Promoting good nutritional practices and providing micronutrients through food fortification;
Therapeutic feeding for malnourished children with special foods and increasing intake of vitamins;
Using technology to create multimedia stimuli and behavioural nudges;
Organising promotional community events;
Incentivising treatment seeking via conditional-cash-transfers; and
Employing first-of-its-kind women-only community nutrition workers (CNW) to promote good nutritional practices within communities.
According to Reckitt, the programme has generated a social return on investment of INR37 for every rupee invested, has reached 39,800 children, and provided employment to more than 40 CNWs.(3) There have been zero deaths from malnutrition since the start of the programme; an estimated 6,500 children have been saved. The programme has also supported 8,000 pregnant women and various families. A few key achievements are:
91% of new mothers initiated breastfeeding.
6,500 families received dry rations and hygiene kits during Covid-19.
161 families received cash assistance to treat malnourishment.
(1) Arjan De Wagt, Chief of Nutrition, UNICEF, 2020
(2) Reckitt, 'Reach Each Child Programme Annual Report 2020-21', 2021
(3) Reckitt, 'SROI Evaluation Nutrition India Programme '19- 20', 2020
"Sanitation is at the core towards building a healthy life…India continues to face cleanliness and sanitation issues...Sanitation workers work in unhealthy and hazardous working conditions putting their lives at risk. The need to improve the lives of these workers is critical. It is heartening to see Harpic World Toilet Colleges across India working relentlessly towards transforming the lives of thousands from manual scavenging to leading a better and more dignified life." Mr. Sai Damodaran (Padmashri Awardee), Founder and CEO of Gramalaya, an NGO dedicated to promoting water, sanitation, and hygiene for all in India.
Reckitt's Harpic World Toilet College Programme combats the cleanliness and sanitation challenges identified in the above quote and empowers and supports frontline sanitation workers.
Following the Government of India's "Clean India Mission", the programme was initiated in 2018 in Aurangabad, Maharashtra. Since then, the programme has delivered a substantial social impact, expanding to five other states across India. In recognition of this impact, the programme received an award from the President of India during the 3rd National Water Awards in 2022.
The Clean India Mission was launched to improve waste management facilities, make India open defecation-free, and ensure that no one is "left behind" in sanitation standards, which Reckitt's programme directly contributes to. To reach these goals, India has been reliant on front-line sanitation workers, especially during the Covid-19 pandemic. Sanitation workers typically earn low incomes and experience unsafe working conditions. The severity of this is clear in India; 631 people have died in the past 10 years from cleaning sewers and septic tanks.
The programme supports India's undervalued sanitation workers by improving their working conditions and personal health practices. This results in better sanitation standards and waste disposal practices across the country, greater dignity for the workers, and a greater appreciation of front-line sanitation workers. The methods used to achieve this include:
Providing participants with cleaning machinery, protective equipment, and personal hygiene products;
Training over 15,800 participants in technical practices, soft skills, personal hygiene, Covid-19 measures, and correct workplace practices both in-person and online, with videos and a mobile app;
Partnering with around 280 firms to provide placements for almost 2,700 programme graduates; and
Raising an INR6 million Covid-19 Fund, supporting 1,250 informal sector sanitation workers.
The programme generated a social return of INR23 for every INR1 spent, with benefits such as:
Empowered workers: 92% of participants feel more appreciated at work. They are also stigmatised less, are safer at work, and provide good quality work based on company ratings;
Improved health: participants spend less on healthcare and only 5% have skin or breathing difficulties after completing the programme compared to 28% beforehand; and
Lower inequality: the programme successfully enabled 99.8% of the workers trained to move out of manual scavenging. As a result, annual household incomes of the sanitation workers have increased by 55%.