Putting health, safety and wellbeing at the heart of our business
As an employer of nearly 40,000 people around the world, we're proud of the standards we set and the care we pay to the health, safety and wellbeing of everyone who works with us – whether they're full-time, part-time or contractors.
Today, health and safety means much more than simply reducing workplace accidents and employee illnesses – it's also about safeguarding and enhancing our people's wellbeing. And with wellbeing and self-care at the heart of our purpose as we work to protect, heal and nurture for a cleaner and healthier world, it makes sense that we must also support our people's mental health and wellness.
2021 highlights
57%
Reduction in lost work day accident rate since 2012
500
Million steps by users of our new social wellbeing platform
98%
Of all manufacturing sites covered by ISO 45001
All our manufacturing sites were covered by Group certification to ISO 45001 with the exception of one site newly acquired in 2021.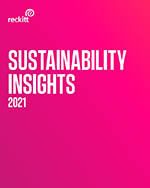 Health, safety and wellbeing
Read our Insight into how we are creating a work environment that puts health and safety first
Download (PDF)
Case studies
In 2021 we announced our global partnership with Heart on My Sleeve, a not-for-profit organisation specialising in mental health. One of the activities we undertook with them and Hintsa, a global leader in high-performance coaching, were a series of global conversations focused on mental health. These powerful sessions focused on our people telling their own personal stories. More than 10,000 employees came to the three live sessions. All employees have access to the recordings and the option to follow up with a guided curriculum online, either individually or in groups.
Throughout the pandemic, we have regularly responded to scientific developments and the understanding of COVID-19. In 2021 we updated our COVID-19 working guidance, 'Navigating our New Normal'. Using this alongside local and national laws and guidance, we made sure we operated all our facilities as safely as possible while maintaining our business performance.
We followed five guiding principles – putting our people first, locally-led decisions to reopen, a phased and gradual return to the workplace, mutual accountability through involving our employees in the decision to return, and protecting our frontline. Our 2021 guide can be found here.