All our employees have the Freedom to Succeed
We believe in always doing the right thing, for everyone – our people, our consumers, our partners, and the wider global community. Diversity and inclusion are integral to the way we think and act, and core to who we are.
It was truly inspiring to see how our culture came to the fore this year, driving our people to do their best in very challenging circumstances. Being diverse and inclusive is not an additional principle for us. We want it to be integral to the way we think and act. It is our collective responsibility to build Inclusion into everything we do, while ensuring to represent the people we are and the global community we serve.
Our values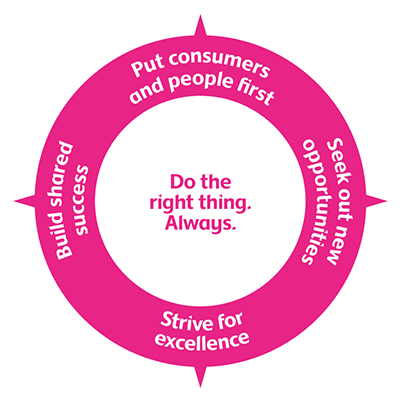 2021 Performance
26
Weeks minimum paid maternity leave
49%
Gender balance at all management levels
All management levels' are Manager level roles and above (excluding Board members).
124
Our employees at all levels represent 124 different nationalities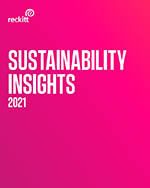 Inclusion
Read our Insight into how we are building a diverse culture of inclusivity
Download (PDF)
Policy
Global parental leave policy
Our global parental leave policy is about making sure all parents have the precious time and space they need to rest and bond with baby. It offers equal rights for all kinds of families.
Find out more
Case studies
Our starting point in addressing sustainability is establishing what matters most to both internal and external stakeholders, from customers, consumers and communities, to investors, suppliers and employees. Our latest materiality assessment results reaffirm the ambitions and associated targets we set in 2021 – purpose-led brands, a healthier planet, and a fairer, more inclusive and diverse society – are relevant to all stakeholders and that our priorities match theirs. They tell us we're prioritising the right issues: there's a clear connection between our most material issues, our 2030 ambitions and our business strategy.
Find out more (PDF)
In 2021, we launched an ambitious programme to promote the benefits of conscious inclusion, which we define as being aware of unconscious bias and consciously choosing to include others.
We started with our leaders, highlighting to them the importance of leading inclusively, and their role in creating a more inclusive culture. Almost 90% of our senior leaders have attended these sessions, which included tips and tools for more conscious behaviour.


We then extended the programme across the company, using online learning and team discussions, to encourage all our people to recognise their responsibility for creating an 'everyone' culture. In 2022, we'll continue the programme and embed this philosophy in our leadership curriculum.
Find out more (PDF)
In Latin America, our journey towards diversity and inclusion gathered pace in 2021. Around 250 of our leaders and teams joined in discussions and workshops about bias and micro-messaging, and we hosted more than 10 Stronger Together talks.
In Mexico, we were recognised as the best workplace for LGBTQ+ employees. Our Employee Resource Groups were drivers of change. Also in Mexico, Women@Reckitt held talks on maternity, empowerment and masculinity, while in Brazil it partnered with Mulher 360, a leading women's group promoting economic empowerment. Our Race & Ethnicity group raised awareness of the vast inequalities still suffered by afro-Brazilians, while the LGBTQ+ group promoted Pride Month, with activities including a drag show in Brazil.


We're also proud of how we advanced inclusion through our launch of the graduate programme in Brazil and Mexico. More than 17,000 professionals took part, with 15 graduates hired. Of these, 60% were black, around half women, and a quarter LGBTQ+. Most came from outside the consumer goods industry. These graduates will be the future pipeline of talent for Reckitt in Latin America, and they should provide more diversity to our leadership.
In Pakistan, the Local Inclusion Board and Women@Reckitt employee resource group have worked hard to promote changes that support working mothers.
Women employees are allowed to employ childcare, or use daycare facilities, at the company's expense, until their children turn three. They also benefit from flexible working patterns when they return to work, and have access to a 'mom mentor' and nursing rooms – mostly novel concepts in Pakistan.
We plan to open a daycare facility in the office in 2022. We've also held regular surveys and training sessions about what women need to succeed at Reckitt. These initiatives have had a clear impact: in the last three years, twice as many mothers have returned to work after childbirth than previously. To further encourage gender equality, we also launched an all-gender bathroom in the office, a first in the corporate world in Pakistan.
Gender balance and equality are crucial for us as an organisation, and society as a whole. As a UK-based group, we're required by law to publish information relating to the gender pay gap. Through more transparency, and voluntarily reporting gender pay for more markets, we'll encourage others to do the same. We now report in 10 of our main markets, covering almost 70% of our people.
Read more