Accelerating our response to our most urgent global challenge
Climate change is affecting both planetary and public health. Our core business helps protect people's health and we understand our responsibility to minimise the health risks associated with a changing planet.
We're combatting climate change with ambitious plans to reduce our own carbon footprint. This means being more resource efficient with energy, using more renewable fuels, and designing for a lower carbon economy – for our sites, our products and our suppliers. We know a healthier planet enables healthier lives.
We have committed to reduce carbon emissions from our sites by 65% and to power our operations with 100% renewable electricity by 2030, with the ambition of net zero carbon emissions by 2040 - a decade ahead of the world's goal of 2050.
We've set new targets to help us make our contribution to keeping global warming to less than 1.5°C. It means scrutinising our own operations and those of our suppliers along the full value chain, so we use as little energy as possible and keep carbon emissions down. 


2021 Performance
66%
reduction in GHG emissions in operations
94%
Renewable electricity
6%
less energy in operations
22.6%
increase in our product carbon footprint
We're targeting a 50% reduction by 2030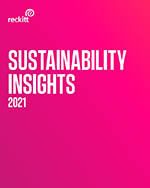 Climate change and energy
Read how we are reducing our GHG emissions and our TCFD statement
Download (PDF)
Case studies
We're part of a collaboration between the private, public and education sectors to make our hometown of Hull, and the Humber estuary, the first carbon neutral region in the UK. The goal is to develop an innovative economic model that helps Hull and similar cities to support a net zero future.
This is especially ambitious, as the Humber, the UK's 'energy estuary', is currently Britain's biggest CO2-emitting region. This is down to the longstanding presence of the fossil fuel industries that currently power the country.
Hull is the birthplace of Reckitt, so we were proud to open our new global R&D centre there in 2019, and to champion this new Building a Better Hull project. When we re-branded last year we wanted to celebrate our continuing investment in the region through something tangible and sustainable.
We believe the project will create a prosperous future for the city and become a blueprint for estuary economies around the world. As well as attracting the support of global businesses like Reckitt, the project is supported by the CBI and Make UK.
Read more
In 2021, we opened our new $300m Health and Hygiene factory in Taicang, China. And sustainability is built in from the ground up, explains Project Activity Manager Gavin Zhang: "Sustainability is the most important element of all engineering work. Our engineering team have worked with all other functions to deliver an intelligent Dettol and Durex factory, managing the whole lifecycle of this landmark green scheme in Taicang."
"Sustainability is the key success criterion of Project Taicang. We considered it from the very early stage of design right through to construction. That includes incorporating solar power, energy-saving technology, water recycling and reuse programmes and more." The site's 612 solar panels provide 200 MWh of power a year, says Gavin. "In just one month, they reduced carbon emissions by 16.5 tonnes."
To help make our supply chain more sustainable, we've funded our contract manufacturers to apply for and buy International Renewable Energy Certificates (IREC) for their facilities. This will help them verify their use of renewable energy.
So far, we've helped seven hygiene manufacturers in India to get IREC certificates. These suppliers can reliably claim the renewable energy they procure is using zero-carbon electricity, and so reduce the portion of their carbon footprint that's associated with purchased electricity.
Some are going even further and are also looking at opportunities to generate renewables on site. In addition to purchasing 100% renewable energy, two of our contract manufacturers in India which manufacture Harpic have installed solar panels to produce 5% of their electricity, equivalent to 28,800kWh.