Sustainability as a guiding principle for design and innovation
Sustainable products are part of our DNA – to protect, heal and nurture in the relentless pursuit of a cleaner and healthier world. This starts with ensuring that sustainability is a core design criteria in the earliest phase of innovation. As part of our 2030 ambitions, we have committed to ensuring 50% of net revenue from more sustainable products.
Our global network of Sustainability Champions are continually looking for incremental improvements to our existing products, reducing the impact and increasing recyclability. They are also thinking about new products that enable us to be healthy and clean in a more sustainable way.
2020 highlights
50%
Target net revenue from more sustainable products by 2030
30.4%
Net revenue from more sustainable products in 2020
75%
Plastic saving on new Lysol Smart refillable cleaner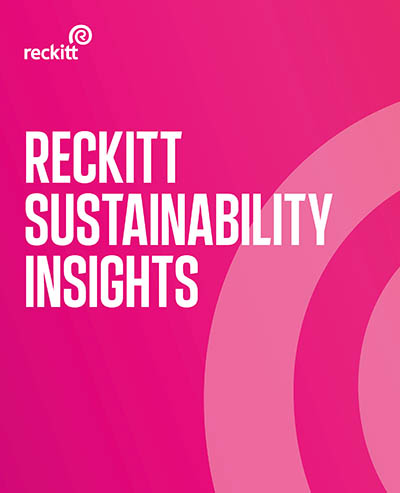 Sustainable product innovation
Read our Insight into how we are enabling and measuring sustainable product innovation
Download (PDF)
Case studies
We are committed to developing products that make a difference – using fewer, more sustainable materials during manufacturing and requiring less energy and water during use. Recognising that product development is a key phase of the life cycle, we launched Reckitt's Sustainable Innovation Calculator App in 2013.
The App enables us to make better-informed development decisions by comparing impacts of new products against existing benchmarks, such as our carbon footprint, water impact or ingredients. With 24.6% of our portfolio already meeting the criteria for being more sustainable than their predecessors, by the end of 2020 we aim to generate at least one-third of our Net Revenue from more sustainable products.
Find out more (PDF)
For Veo, our new probiotics cleaning brand in the US, we talk as much about what's not in it, as what is. The 99% biodegradable formula is free from chlorine bleach, formaldehyde, phosphates, and disinfectant chemicals – and uses active probiotics similar to the live bacteria you can find in supplements for gut health.
In Veo, the probiotic bacteria works on dirt for up to three days, with less environmental impact than traditional chemicals. Veo's bottle is made from 100% post-consumer recycled plastic, and its sleeve can be easily removed so that the bottle can be recycled again.
When it comes to laundry cleaners, consumers have historically had to choose between efficacy and a desire to be more environmentally friendly. However, we have launched a new range of natural cleaners, Botanical Origin, which perform just as well as conventional products.
Instead of using petrol-based cleaning agents, the brand has found and chosen botanical sourced ones, with Botanical Origin's unique NatureClean formula comprising up to 95% botanically sourced ingredients, that ensure equivalent performance.