Sustainability as a guiding principle for design and innovation
Innovation is fundamental to how we develop products that meet our consumers' needs. For us, sustainability is a key pillar in the innovation process, supporting the growth and success of our brands, while reducing our impact on the planet.
As part of our 2030 ambitions, we have committed to ensuring 50% of net revenue from more sustainable products.
2021 Performance
24.9%
Net revenue from more sustainable products in 2021
The NR from more sustainable products excluding our Infant Formula and Child Nutrition business was 29.3%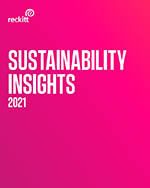 Sustainable product innovation
Read our Insight into how we are enabling and measuring sustainable product innovation
Download (PDF)
Case studies
We are committed to developing products that make a difference – using fewer, more sustainable materials during manufacturing and requiring less energy and water during use. Recognising that product development is a key phase of the life cycle, we launched Reckitt's Sustainable Innovation Calculator in 2013.
The calculator enables us to make better-informed development decisions by comparing impacts of new products against existing benchmarks. It uses quantitative measures to determine whether an innovation makes a product 'more sustainable'. Looking specifically at water, carbon, plastics, packaging and ingredients. In 2021, we revised our ingredients metric significantly, giving our product developers more tools to help us continuously improve.
Find our more (PDF)
Air Wick's Essential Mist brings fragrances inspired by nature into the home. Our new compact design is a great example of how we can lower the environmental impact of our products. We've reduced the weight of the device by 24% as well as achieving a 26% plastic reduction in the overall starter kit.
The new pack also has more recycled content, helping us pre-empt emerging regulation calling for more Post Consumer Resin (PCR). Overall, this makes the product more sustainable from a carbon, water, plastic and packaging perspective, as measured by our Sustainable Innovation Calculator.
In the US, KY Jelly and KY Liquid were reformulated to replace ingredients such as methyl parabens with safer alternatives. At the same time, we made packaging changes to reduce the amount of plastic packaging and improve overall recyclability.


Using our Sustainable Innovation Calculator, the changes made to KY Jelly and KY Liquid were more sustainable from a carbon, water, plastics and ingredients perspective. This means that both positively contribute to our 2030 goal of 50% net revenue from more sustainable products.